Artist Statement.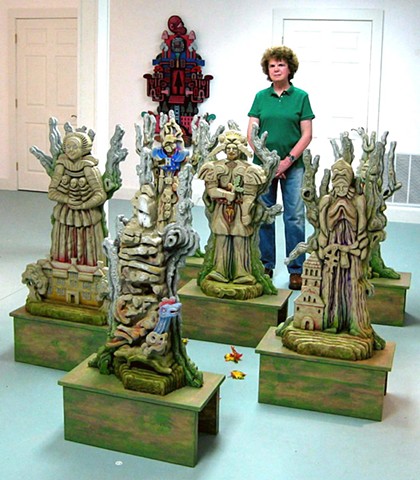 VALERY SUTHERLAND artist statement.
My 'Elements' series of paintings are abstract landscapes, often based on digital imagery, that invariably attempt to portray the passage of time. Earth, water, air and fire are the ancient elements that are referenced in the artworks. The blueprint of an old building or town is overlaid by slashes of color that could be fields. Roads crisscross the area. Skies with clouds of varying hues create a feeling of mystery. Fragments of a Medieval tiled floor are sometimes featured.
The strange and irregular configurations of ancient pollarded trees have always interested me. Using black and white photos of some of them, I have digitally added color. The resulting images are the basis for my Pollard series of paintings.
After some years of creating wall and free-standing sculptures, in 2011 I decided to return to painting. The first pieces were the 'Reflections' series, based on photographs of the reflection on a black granite countertop, of a white oak tree that grew behind my house. I used images of split logs for the 'Labyrinth' paintings and a road trip to Florida provided inspiration for the 'Road Trip' series.
Most of the sculptures that I constructed from layered plywood, were narrative pieces. I chiseled away the surface of the wood or built up the surface with an acrylic medium or dried paint. The sculptures were then painted. The subjects ranged from social issues such as drug abuse and AIDS to the appreciation and influence of great creative talents such as the architecture and sculptures of the Maya, the music of Richard Wagner, in particular the recordings of his operas featuring soprano Kirsten Flagstad, and the paintings of Philip Guston.